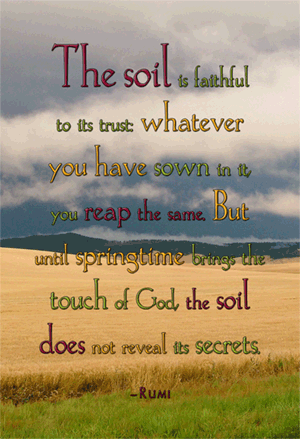 Let go of thought and bring it not into your heart, for you are naked and thought is an icy wind. You think in order to escape from torment and suffering, but your thinking is torment's fountainhead. Know that the bazaar of God's Making is outside of thought…
Claude Monet

"Poplars on the River Epte"
Man is like a bow held in the hand of God's Power. God employs him in various tasks. In reality, the agent is God, not the bow. The bow is an instrument and a means. But for the sake of the maintenance of the world it is unaware and heedless of God. Tremendous indeed is the bow that becomes aware of the Bowman's hand!
Claude Monet

" Sunrise"
For those who realize that everything is from God, everything is the same.
Poverty is not for the sake of hardship. No, it is there because nothing exists but God… Poverty unlocks the door -- what a blessed key!
You seek knowledge from books. What a shame! …
You are an ocean of knowledge hidden in a dew drop…
Vincent van Gogh

"Wheat Field With Cypresses"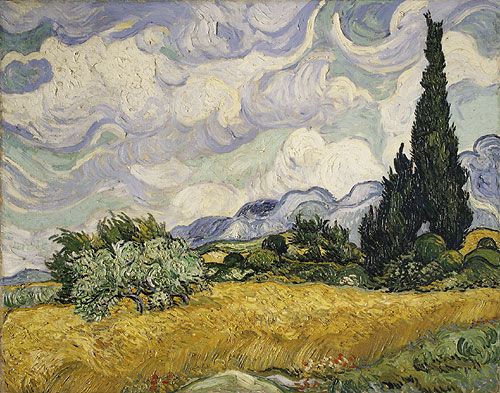 Someone was saying: "I have studied so many branches of knowledge and mastered so many concepts; yet I still do not know which concept in man will abide forever. I have not discovered it yet."
If it could be known by means of words, there would be no need for the annihilation of individual existence or for so much suffering. You must strive to rid yourself of your own individuation before you can know that thing which will remain.
Wonder from these thousand of "me's",
which one am I?
Listen to my cry, do not drown my voice
I am completely filled with the thought of you.
Don't lay broken glass on my path
I will crush it into dust.
I am nothing, just a mirror in the palm of your hand,
reflecting your kindness, your sadness, your anger.
If you were a blade of grass or a tiny flower
I will pitch my tent in your shadow.
Only your presence revives my withered heart.
You are the candle that lights the whole world
and I am an empty vessel for your light.
Claude Monet

"Water Lilies"
Inside this new love, die.
Your way begins on the other side.
Become the sky.
Take an axe to the prison wall.
Escape.
Walk out like someone suddenly born into color.
Do it now.
You're covered with a thick cloud.
Slide out the side. Die,
and be quiet. Quiteness is the surest sign
that you've died.
Your old live was a frantic running
from silence.

The speechless full moon
comes out now.